Central Mass Football Weekend Wrap Up
Monday, September 10, 2012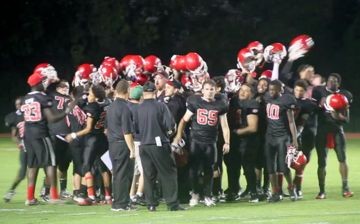 It was a busy weekend for football in Central Mass with several marquee high school and college matchups. Add in a couple natives of the region making their NFL debuts with new teams, and there is certainly no shortage of storylines from the past few days.
High School
Back in Black?
South used a relentless no-huddle offense and an aggressive defense to run past Worcester Tech 37-9 in the season's opening game Thursday. Are the Colonels back? That remains to be seen, but South sure seemed to have its swagger back. And, while they many not have the numbers to play with some of the region's powers, South has speed to burn at nearly every position.
A Rivalry Shootout
Speaking of the no-huddle, St. John's used its "blur offense" and a new starting quarterback to win a 47-40 shootout against rival Holy Name Sunday. Drew Smiley stepped into the starting role after impressing coach John Andreoli with his athleticism in camp, and proved to be a true dual threat, throwing for 226 yards and rushing for 127.
Holy Name had a star of its own in running back Quron Wright. The undersized tailback rushed for 282 yards and four touchdowns, but a fumbled snap late in the fourth quarter did the Naps in as it put the ball back in the hands of St. John's to run out the clock.
Super Bowl Champs Still Have Talent
Reigning Division I Super Bowl Champion Leominster played with Everett, the state's top ranked team, for a half on Saturday. But, a series of special teams miscues and turnovers led to Everett running away with a 29-7 win.
Divisions II champ Nashoba was absolutely dominant against Wachusett. The Chieftains rode their physical offensive line to an easy 44-14 victory. Meanwhile, Division III champion Auburn started their campaign for an undefeated season by dominating Shrewsbury 28-6.
College
Crosstown Battle
Worcester State outlasted Worcester Polytechnic Institute (WPI) 28-21 Saturday, and appear to be on their way to another big season. The Lancers are now 2-0 with senior quarterback Corey Spencer playing mistake-free football and Kemani Jones looking the part of a big-time running back.
It was a tough loss for WPI, which looks to be significantly improved from a year ago. For the second consecutive week, sophomore running back Zach Grasis notched over 100 yards on the ground for the Engineers, but WPI's two quarterback system struggled as John Antonopoulos and Jacob Grills combined for only 110 yards through the air.
In the Win Column
Assumption picked up its first win of the young season as the Greyhounds came from behind to defeat Saint Anselm 24-14. Trailing by a point in the fourth quarter, quarterback Bobby Jordan found Evan Butters for a 26 yard touchdown pass. Moments later, a 34-yard Tad Beuchert field goal put the game on ice for the Greyhounds.
NFL
An Offensive Defense
Two pro coaches with Central Mass ties had less than stellar debuts with new teams yesterday. Grafton native Steve Spagnuolo took over the Saints defense after their now infamous bounty scandal, and got his first game at home against a rookie quarterback.
Unfortunately, that rookie quarterback was reigning Heisman Trophy winner Robert Griffin III. RG3 torched Spagnuolo's defense in the Big Easy, throwing for 320 yards and two touchdowns with no interceptions on the way to 40 Redskin points and a Washington upset.
Hard Knocks for New Phins Coach
Joe Philbin, a former Worcester Academy student, made his debut as Miami Dolphins head coach and had little success against the Texans in Houston. Philbin, like the Redskins, started a rookie quarterback in Ryan Tannehill, but this rookie threw for three interceptions as the Dolphins lost 30-10.
Related Articles
Enjoy this post? Share it with others.