Worcester Boys and Girls Club Hosting Healthy Cooking Classes
Friday, July 04, 2014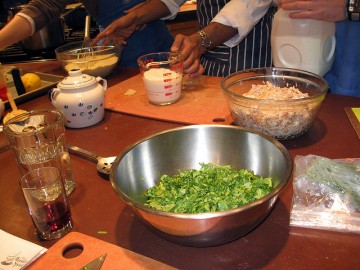 This summer the Boys and Girls Clubs' members in both Worcester and Boston will learn first-hand about healthy cooking and eating from Sally Sampson – founder of ChopChopKids and a renowned cookbook author – and Bill Yosses, the former White House pastry chef.
The classes are made possible by a $100,000 grant from the Harvard Pilgrim Health Care Foundation. The grant will provide a total of eight healthy cooking classes throughout the summer and fall.
"What better way to learn about healthy cooking and eating than from two top-notch chefs who care about the well-being of our kids," said Karen Voci, president of the Harvard Pilgrim Health Care Foundation, which funds programs that prevent and combat childhood obesity by changing the environments where kids play and learn. "One of the lessons we've learned through our work creating healthy environments for kids in the region over the past eight years is that cooking is a lost art, regardless of income. Here is an opportunity to see if skilled professionals, specializing in providing healthy cooking lessons to kids, can have an impact."
Starting with a week-long series of healthy cooking classes at the Worcester Boys & Girls Club on Monday, July 7th, Sampson and Yosses, the new director of the ChopChop Cooking Lab, will teach 8- to 12-year-olds how to prepare, cook, and enjoy healthy offerings. On the family-friendly menu are yogurt parfaits and smoothies, gazpacho and panzanella, quesadillas and guacamole, beanie burgers & hummus.
Creating a Healthier Environment
The curriculum of the cooking classes will include taste tests and discussions, recipe writing, scientific method experiments, honing math skills through measurements, science through cooking, equipment demonstrations, and more.
The goal of these cooking classes is to provide kids with the skills, recipes, food, and tools they need to bring healthy eating into the homes of Worcester families.
People involved with the program hope that it is a success, something that can be scaled up in the future. The chefs hope that through programs such as these, they can make healthy eating and delicious food synonymous.
"We want to making cooking cool," said Sampson. "We believe that making cooking an enjoyable, shared activity for children will instill in them the joy of creating great tasting meals for themselves and their families. Our goal is encourage them to become more adventurous, and ultimately to lead to making better food choices."
---
Related Slideshow: 25 Must Do's in Central MA this Summer
Related Articles
Enjoy this post? Share it with others.