Schaefer to McGourthy: the Future of the Worcester Research Bureau
Friday, February 14, 2014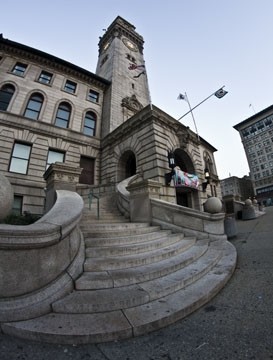 The Worcester Regional Research Bureau is busily transitioning through its first change of leadership in nearly three decades.
The independent, nonpartisan research organization was formed in the wake of Massachusetts' Proposition 2 1/2, a property tax measure that largely restricted municipalities from raising revenue above the 2.5 percent mark beginning in 1982.
Shortly after, the city of Worcester was forced to shed its research capacity, creating an analytical vacuum filled by the bureau in 1985. Since that time, the organization has played a recognizable role informing public discourse on the economics, municipal finances, educational system, and demographics of Worcester and the surrounding region.
Its new executive director, Timothy J. McGourthy, the city's past chief development officer since 2006, is looking to build on that foundation of informing good governance.
'Just the facts, ma'am'
"To me, the research bureau has always been an asset to knowing what's going on in Worcester — what are the facts?" McGourthy told GoLocal on Wednesday, "Day 8" in his new role. "The research bureau is a place where you can focus on an issue."
Roberta Schaefer, the founding executive director, said the bureau came about amid a wash of changes in Worcester, including the departure of the city's second and longest-serving manager, Francis J. McGrath, and a charter change that created district-specific council seats where there were previously all "at-large".
"The people in the business community thought it would be good to have some organization that would be doing research and serving as a watchdog," Schaefer said this week. "I think over the 28 years we've done exactly that."
Influence of bureau over the years
Broaching topics like the need for public employee health insurance reform, recommendations to close the city hospital and nursing home, and advocate for the vocational school's incorporation into the public school system, the positive, Schaefer says, has been "an independent, nonpartisan, objective look at the issues and what's really for the best interests of the city as a whole."
"Outside of political considerations, where do the facts take you." Schaefer arrived in Worcester in 1976 with a doctorate in Political Science from the University of Chicago.
McGourthy, coming from a policy background by way of a master's in Public Policy and Urban Planning from Harvard University and a master's in Government from Johns Hopkins University, called having that factual information a "critical piece to informed policymaking."
"As a former city employee, we don't have the resources to go back and understand the basic data," he says. "It takes time and it takes focus." But, "that's something essential to good government."
"It's about creating the primer so people know, these are the issues, this is what it means," McGourthy said.
New executive director well suited for role
"Tim served the city in a first-class manner," said city Councilor Frederick C. Rushton, chair of the standing committee on economic development. With both the chief development officer and city manager positions filled on an interim basis (by Deputy Solicitor Michael E. Traynor and former state Sen. Edward M. Augustus, Jr., respectively), Rushton said with every change comes opportunity.
At the research bureau, "it's about research, and he's got the chops to do it," Rushton added.
"Tim is an outstanding choice. He's an incredibly brilliant individual, but also somebody who understands that nexus between the private sector and the public and the public sector," said Worcester Regional Chamber of Commerce President and Chief Executive Officer Tim Murray.
"It's about driving results and efficiencies. ... I think Tim gets it."
City and bureau looking toward the future
During McGourthy's tenure as the city's chief development officer and head of the Worcester Redevelopment Authority (previous to which he worked as director of policy for the Boston Redevelopment Authority), Worcester saw the development of projects including CitySquare and Gateway Park.
Now, McGourthy says the city is "incredibly well-positioned" going forward. Amid plenty of challenges are also many assets and opportunities. "How we do it will be critical."
McGourthy said he sees the new role as a continuation of his previous post with the city. "As we change, A, we want to maintain that movement, and B, we have to make sure nobody is left behind."
"My first focus is making sure we're building on a foundation of strong, real-time data."
Schaefer meanwhile has made the transition out of the office to spend more time with the grandchildren and husband David, a political science professor at the College of the Holy Cross. But she says she plans to remain busy and keep apprised of local affairs, recently appearing on the WCCA TV talk show Beacon Hill Chat.
Schaefer said she has confidence in McGourthy and expects to be talking with him regularly. The research bureau, once a one-woman operation, remains on a sound footing with four staff, a board of directors, and healthy finances.
Occasionally contentious — an article co-authored in Governing magazine last December claiming the city council set a "high priority on ribbon-cutting(s)" drew the public ire of that body shortly after — Schaefer stuck to her guns, holding up the self-rule of the bureau.
"We said what needed to be said, and we had the facts to back it up. I always felt comfortable sticking my neck out because we had the facts," Schaefer said.
"The facts are the facts."
---
Related Slideshow: Worcester's Most Dangerous Neighborhoods
Neighborhood search website Neighborhood Scout indexed violent and property crimes data from the Federal Bureau of Investigations to determine the crime rates on a neighborhood-by-neighborhood basis in Worcester. The slides below show the overall crime index (a score of 100 is best) as well as the per capita crime rates broken down by violent and property crime. The data is sourced from 2011 figures, the most recent year available from the FBI. The online resource is created by Location, Inc., a Worcester-area company that bills itself as a leader of location-based data and risk analysis information.
Related Articles
Enjoy this post? Share it with others.