Gostkowski's Field Goal Lifts Patriots Over Chiefs 43-40
Monday, October 15, 2018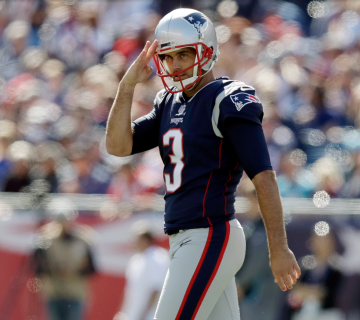 Stephen Gostkowski kicked a 28-yard field goal with no time left on the clock as the
New England Patriots
edged the previously unbeaten Kansas City Chiefs 43-40 on Sunday night at Gillette Stadium.
"You know we had control and then we let them back in the game, the fumble was a bad play, but they were making plays on offense, we were making plays. You know we talked about competing for 60 minutes and that's what it took, it went right down to the last three seconds," said Patriots quarterback Tom Brady in his post-game press conference.
The win improves the Patriots to 4-2 on the season.
Kansas City falls to 5-1 on the season.
Patriots Edge Chiefs
The Patriots built up a 24-9 lead at the half after a Sony Michel one-yard run just before the half, before Kansas City rallied in the second half.
Starting at the beginning of the third quarter and extending into the fourth, the Chiefs outscored the Patriots 24-6 to take a 33-30 lead with 8:38 to play in the game.
On the Patriots next possession, Brady connected with Chris Hogan on consecutive plays to help drive New England to the Kansas City four-yard line.
On third down, Brady shrugged off a tackle and ran four yards into the end zone to give the Patriots a 37-33 lead after a Stephen Gostkowski extra point.
Gostkowski would add a 50-yard field goal to put New England up 40-33 with just over three minutes to play.
However, Kansas City would get it back in one play.
Chiefs quarterback Patrick Mahomes connected with Tyreek Hill on a 75-yard touchdown pass on the first play of the drive to tie the game at 40 after an extra point with 3:03 to play in the game.
The Patriots got the ball back with three minutes to play.
On the Patriots final possession, rookie running back Sony Michel would pick up a huge third and one and then Brady would connect with James White and Rob Gronkowski to move the Patriots into field goal range.
With no time left on the clock, Gostkowski would convert a 28-yard field goal to give the Patriots a 43-40 win.
Brady finished the game completing 24 of 35 passes for 340 yards and one touchdown.
Next Up
The Patriots return to action on Sunday, October 21 when they visit the Chicago Bears.
Game time is set for 1 p.m.
---
Related Slideshow: The 21 Biggest Patriots Controversies
What do Michael Jackson and deflated footballs have in common? Read on for some of the more colorful chapters in Patriots history.
Related Articles
Enjoy this post? Share it with others.