Fecteau: A Rare Moment of Bipartisanship
Sunday, September 10, 2017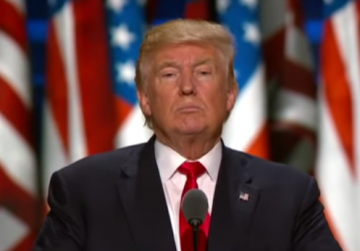 President Donald J. Trump signed a bill Friday extending the debt ceiling for three months, keeping the government running and providing just over $15 billion in aid to parts of our country adversely impacted by the recent hurricanes. This is a rare moment of bipartisanship in an otherwise toxic, partisan political environment.
This deal came as a shock to some conservative Republicans. During the heated discussions with Democrats over this bill, specific Republicans preferred to attach wording within the legislation that included draconian fiscal cuts. Mr. Trump and his administration pushed back against the idea siding with the Democrats; signing a law free from fiscal restraints.
This should come as no surprise. Trump distanced himself from Republican Congressional leadership in the past and even went so far as to condemn them. While nominal a Republican, Mr. Trump is much more of a populist president than anything resembling a Republican. Mr. Trump's platform was never truly conservative; it was anti-elitist that appealed to the more nationalist tendencies in our country.
Regrettably, for Democrats, working with Mr. Trump is wrought with peril; a number of Mr. Trump's policies are toxic to the Democrats' agenda, and a serious political liability. Regardless, in this instance, politics was sidelined, and those impacted by the devastating hurricanes will have some reprieve in this instance.
Republicans now understand they aren't dealing with a typical Republican president (populism before the party), and Democrats now realize that, on occasion, they can deal with the Trump White House to solve some problems. While Democrats may dislike Mr. Trump and his views (I fall into this camp), he is our president, and someone the nation turns to in a time of crisis – such as now.
At the federal level, bipartisanship is a rarity, and at times like this, I am happy we can come together as a country to support those impacted by these terrible hurricanes. Fleeting, exceptional moments like this make me proud to be an American. We can fight about politics some other time, but let's care for our neighbors for the time being. We need to love members of our country and community more than we loathe Mr. Trump – even if it is a lot.
Matt Fecteau (

[email protected]

) is an M.P.A. candidate at the Harvard Kennedy School of Government, and an Iraq War veteran. Follow him on Twitter @MatthewFecteau
Related Articles
Enjoy this post? Share it with others.