Fecteau: The Stupidity of Trumped-up Tax Cuts
Monday, April 24, 2017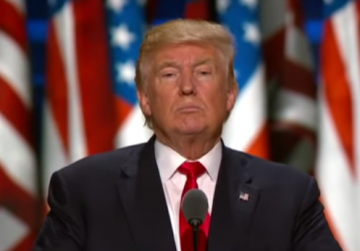 President Donald Trump is set to introduce a massive tax cut soon that will disproportionately favor the affluent – as he hints. That's right; at a time when income inequality is equivalent to that of the Great Depression, and income mobility is stagnant; the Trump administration will shower the already well-off with even more cash. The "massive" tax cut Trump is proposing will not do anything for our economy, and only further concentrate wealth into the hands of the exceedingly wealthy.
Trump's tax-cut plan is nothing new. Trump is championing a debunked theory embraced by President Ronald Reagan called "supply-side economics" or "trickle-down" economics. During the campaign, Democratic Presidential candidate Hillary Clinton called Trump's version 'Trumped up, trickle-down economics' because Mr. Trump's tax plan was merely Reagan's tax plan on heavy steroids.
In a nutshell, the supply-side economic policy is – in theory— revenue neutral. According to the theory, lowering taxes put more money into circulation, and people buy more; this stimulates economic activity, which then generates income; paying for itself in the process.
However, as a wise man once said, "facts are stubborn things," but tell that to Mr. Trump. Supply-side economics has been long disputed to have any beneficial economic impact. In fact, even during the Reagan presidency (which many supply-side economists cite as a success), Reagan signed into law tax cuts, but also embraced an immense explosion in federal spending.
Reagan's record on job growth can be most attributed to the massive defense expenditures that had a ripple effect throughout the American economy. Reagan's combination of lower taxes and increased spending did have some series long-term consequence though; he almost tripled the national debt to some $3 trillion just before he left office. Will this be Trump's legacy as well?
The non-partisan Congressional Research Service, even calls supply-side economics a scam (my word). Back in 2012, in a confidential report, it found that lowering the tax rates on the highest earners has little or no impact on economic growth. The report specifically states, "The reduction in the top tax rates appears to be uncorrelated with saving, investment and productivity growth. The top tax rates appear to have little or no relation to the size of the economic pie. However, the top tax rate reductions appear to be associated with the increasing concentration of income at the top of the income distribution."
Mr. Trump and the rest of the Republican Party need to come to grips with reality. No evidence supports the conclusion that tax cuts will benefit anyone except the already exceedingly rich. If they want to embrace a debunked theory that will reward the wealthy, score cheap political points, and leave everyone else behind, Mr. Trump should just burst the bubble championed by the Reaganites of an oasis of job creation because of these silly tax cuts. We live in the real world, not this Trumped-up world of fiction.
Matt Fecteau (

[email protected]

) of Pawtucket, Rhode Island was a Democratic candidate for office in 2014 and 2016. He is a former White House national security intern and Iraq War veteran. Follow him on Twitter @MatthewFecteau
---
Related Slideshow: Trump Inauguration
Related Articles
Enjoy this post? Share it with others.