Fecteau: Trump's Success Comes With Strings
Wednesday, December 21, 2016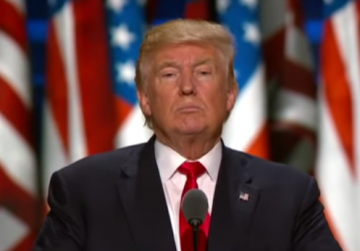 Mr. Donald Trump ran his presidential campaign on his alleged success, and ridiculous wealth, but with this, comes strings. The American people should be concerned about this narcissist-in-chief's potential conflicts of interest related to his vast business empire.
While it goes without saying, Trump has a reputation for putting profit first. He is the quintessential embodiment of Gordon Gekko; greed is good. While everyone has been so enthralled by Mrs. Hillary Clinton's emails, Trump has his own dirty laundry. The controversial Trump University is a perfect example. Trump exploited the hopes of the less fortunate so make just a little bit more money – after the first billion is the hardest as they say. Trump told gullible clients he had the tips to make them successful, and all the attendees ended up with was huge bill.
Because of this debacle, unlike Mrs. Clinton though, Trump is facing real legal action. Thus far, Trump has agreed to pay $25 million in relation to the scam in New York, and Trump may be forced to testify in California. Yes, an unbiased advocate for Americans indeed – my attempt at sarcasm.
During the Trump campaign for president, the unofficial campaign cry was 'lock her up' – referring to Mrs. Clinton. Now I am just dying to know, will there be similar cries directed at Mr. Trump?
Trump's business empire spans the globe, raising serious concerns. After his election, Trump has apparently asked Argentina to expedite the building of one of his famous Trump towers in Buenos Aires. Trump and Argentina deny any special favoritism, but does it matter? The perception is there.
I'd also like to point out; Trump appears more interested in making a quick buck or slamming Alec Baldwin on Saturday Night Live than receiving critical intelligence briefings. It is about priorities for Mr. Trump; unlike President Barack Obama who was criticized for occasionally golfing, the thin-skinned Trump normally throws a hissy fit on Twitter sending stock prices plummeting. As for me, I'd prefer a president who plays a peaceful game of golf.
With such an expansive business empire, Trump has promised to put his business holdings in a 'blind trust.' Be warned though, his idea of a blind trust doesn't fit under the category blind trust. This alleged trust will likely be actively managed by his relatives who are involved in White House operations, and of course, selecting members of important government positions who ensure there are no conflict of interests – only in America.
Up until now, Trump has based is criteria for cabinet-level positions on an accumulation wealth through their various works the business world. Take, for instance, uber-rich ExxonMobile executive Rex Tillerson, the nominee for Secretary of State. Even if Mr. Tillerson abandons his stake in ExxonMobile, he will still have close connections to that respective company. This is what Washington DC lobbying is based on, relationships, but with the Trump at the wheel, companies like ExxonMobile can bypass the lobbyists, and call people like Mr. Tillerson direct, saving a lot of money on the process – God bless capitalism.
We do not know the depth of Trump's connections with the business world. Trump has a tax return of approximately 12,000 pages, and refused to release it. He has cited the fact he is being audited by the IRS. The IRS says the audit has no bearing such as a release. Does it truly manner at this point if Trump is lying again?
Can this get anymore insane? I guess I spoke too soon. As of this writing, word is former governor of Alaska Sarah Palin is being considered to be the nominee for the Secretary of Veterans Affairs. Just what every veteran wants, some lady who can see Russia from her house in Alaska, starred in a reality television show, and bafflingly blames President Obama for her veteran son's PTSD. I wonder if Mrs. Palin received her medical expertise from Trump University?
Trump will assume office next month, but with that being said, for whom will he advocate? There are a lot of red flags being raised here. Maybe Trump will come into office a sincere player for American interests; we just don't know. This is shaping up to be a long, long four years, and the press is going to be very busy. If there is one thing I can guarantee, at least, Trump will be great for ratings, and circulation.
Matt Fecteau (

[email protected]

) of Pawtucket, Rhode Island was a Democratic candidate for office in 2014 and 2016. He is a former White House national security intern and Iraq war veteran.
---
Related Slideshow: Trump in Worcester
Related Articles
Enjoy this post? Share it with others.