Finneran: Those Presidential Debates
Friday, June 03, 2016
Summer season is now in full swing. And for the I-told-you-so nattering nabobs of negativism in our midst, our daylight hours will begin to shorten in about three weeks………..ugh.

No doubt that Americans will have their usual summer routines of cookouts, baseball games, days at the beach, and nights around campfires. Political junkies and columnists will feast upon the spectacles of the Democratic and Republican national conventions. Those junkies will also nosh with delight when the announcements are made regarding Vice Presidential candidates. So much material, so little time.

Of course the piece-de-resistance for all Americans, not just the junkies and the pundits, will be those presidential debates. Television audiences will be astronomical, far surpassing the Olympics and likely approaching the Super Bowl in terms of viewership.

Since the age of television, there has never been a political year like 2016. All the rules have been rewritten by Trump and Mrs. Clinton had best be prepared. Her quarter-century or more of high-visibility national politics are seen by her fans as unmatched and invaluable experience. Trump fans on the other hand see their candidate as unblemished with regard to our deteriorating national condition, while holding Mrs. Clinton as complicit in every major mistake that has occurred in those twenty-five years. Consider immigration, terrorism, the economy, wage stagnation, health care, achievement gaps, national debt, entitlement crises, Iraq, Iran, Libya, Russia, and China. Is that enough for you? Are you confident about a successful outcome in any one of those issues? Can Mrs. Clinton find convincing fresh approaches to these urgent problems when she speaks to the American people? Her struggle with Bernie Sanders has been painful to watch, almost as painful as contemplating Bernie as a serious candidate. He is not and Hillary should have dispatched him to the political morgue months ago. Perhaps the coroner arrives soon.

Herewith an idea for Hillary and the Donald and more importantly for the American people:

Five or more presidential debates, topic specific, for at least ninety minutes, moderated by a fair firm knowledgeable American citizen, preferably one who is not in the tank. I'm taking nominations from you dear reader. Any thoughts? Perhaps Dan Rea from WBZ Radio in Boston………he's a Latin School kid and scrupulously fair. Perhaps John King from CNN, another Latin School grad and quite alert to the escape maneuvers of candidates. Feel free to send names.

As for topics, a quick scan of the world reveals massive tumult and disarray. The Obama foreign policy has puzzled and even frightened traditional allies and emboldened America's enemies.

Yes, America has enemies. The world does not conform to the dreamy wishes of the Harvard faculty lounge. The world has bullies, terrorists, and tyrants, tyrants with utterly ruthless ambitions. Their hunger is never satisfied. Their thirst is never slaked. And it's been customary for more than seventy years that America is the country that keeps such ruthless ambitious tyrants in check. Notwithstanding President Obama's naïve preferences don't look for or expect much from the U.N. Rather, look for the U.S. Navy.

Thus our first presidential debate should be on foreign policy, allegedly a strength for Hillary. You can anticipate that Trump will be loaded for bear on Iraq, Iran, Russia, China, Libya, and Israel. There will be little nuance or calculated ambiguity from Trump. Hillary will be tested.

Our second debate should be on the sorry state of education in America, particularly in rural communities and in inner cities, even more particularly in African American communities. Of course we will hear silly slogans regarding "free college" and similar nonsense. Ignore such nonsense. Rather, listen closely to the candidates' ideas re breaking the achievement gaps, on vocational education, on math and science, and yes, even on physical education. Education is a huge and worrisome issue for the future of the country.

Debate on transportation and essential infrastructure---reservoirs, power grids, airports, seaports, highways, commuter and cargo rail---is long overdue. What is most urgently needed? How do we pay for it? Welcome to debate number three.

Two final debates can cover the economy and federal spending. Just don't fall for the absurd notion that any President (or Congress) can "fix" the economy. They cannot. At best, they can help create conditions that might encourage economic activity through tax policy, regulation, and predictability. As for federal spending and budget discipline, suffice it to say that loading our children and grandchildren with such staggering debt is disgraceful. We are drunk. And we should be ashamed.

So there it is, a fall television schedule that is entertaining, educational, and deadly serious. You will watch. I will watch. The world will watch, as they should. Stay tuned.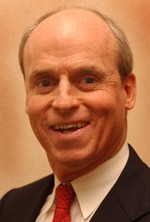 Tom Finneran is the former Speaker of the Massachusetts House of Representatives, served as the head the Massachusetts Biotechnology Council, and was a longstanding radio voice in Boston radio.
---
Related Slideshow: Presidential Candidate's Social Media - 2016
Related Articles
Enjoy this post? Share it with others.