Finneran: Thoughts on Race
Friday, May 26, 2017
The race puzzle confronts us every day.
How is it that as America has moved rapidly forward on racial issues, the suspicions and the tensions between the races have multiplied?
Is it my imagination that we have become more race obsessed since the election of Barack Obama than at any time in recent memory? If so, why? Where does the blame lie?
In that election, white America outperformed black America's expectations. Not surprisingly, the politically perceptive Barack Obama had a sense that white America would do so, which is why he left a very safe U.S. Senate seat for a roll of the dice on the biggest game in town. Give Obama credit for giving white America credit regarding its receptivity to a black candidate.
You'll recall of course that black America had some doubts about this guy Obama, the principal doubt being whether he was "black enough" to have racial credibility. Those doubts sprang from two sources, the first of which was the racial cred Bill Clinton carried into the White House, a cred which was initially assumed to be borne by candidate Hillary Clinton as well. The second source of black America's doubts about Obama sprang from the fact that he had no "slave blood" in his history. Neither his mother or father nor their forebears, had suffered the American slave experience. At least initially, that absence of slave blood rendered Obama not quite black enough for the race arbiters in many black communities.
Having elected Barack Obama twice, it was assumed by some that we had entered a post-racial society, embracing a culture which was truly color blind and which gave no thought to skin tone. Hah! Good luck with that..............
Racists on both sides---white racists and black racists---were not about to let go of their security blankets. Thus Obama was attacked for the ruination of the White House. He was deemed by some as a racial interloper, horribly blotching the all-white (and mostly mediocre) history of the previous occupants. He was deemed by others as a sell-out, a candidate who had ignited black America's pride and solidarity, only to abandon them in pursuit of his own selfish goals, and never doing enough to alleviate the plight of many black Americans.
It was at this point actually possible to feel sorry for Obama as a candidate who simply could not catch a break from his racial critics. Sure he could win elections, but those elections had created impossible expectations............
Yet Obama himself cannot escape some responsibility for those expectations. The "black Jesus" idolatry of his sycophant staff was not what he needed as President. There is not a humble or modest bone in Obama's body, thereby necessitating a tough grey-haired consigliere who would verbally dope-slap Obama into an occasional concession of personal limitation.
Two recent articles in National Review Online recommend themselves to the discussion of race in America. Jay Nordlinger's "An American Outsider" and Kay Hymowitz's "Unsayable Truths About a Failing High School" give pause to certain assumptions and sureties. They are worthy of your time.
Finally, there is the unassailable fact of utterly ordinary engagement and interaction. There are roughly 30-40 million black Americans going about their daily tasks, engaging with white Americans in every sphere of modern life. They might be colleagues, fellow students, fellow patients, team mates, anxious parents, or just plain neighbors, as concerned as their fellow neighbors about their quality of life. Is it too much to hope that these daily exchanges and experiences provide a helpful solvent to hidebound racial attitudes? As I wait in the grocery checkout line with my black neighbors or as I chat at the gym with my early morning fellow faithful, the thought recurs to me over and over and over again---we're all in this together.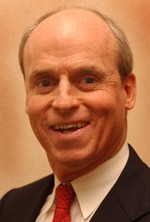 Tom Finneran is the former Speaker of the Massachusetts House of Representatives, served as the head the Massachusetts Biotechnology Council, and was a longstanding radio voice in Boston radio.
Related Articles
Enjoy this post? Share it with others.