Finneran: Three Speeches, A Few Thoughts
Friday, January 27, 2017
We've seen three "state of" speeches in the last ten days.............Mayor Marty Walsh's State of the City speech, President Donald Trump's Inaugural speech, and Governor Charlie Baker's State of the State.
Some thoughts:
Marty Walsh has a command of the city, its history, its strengths, and its needs. He is focused and he is confident about the city's future. He's had some signature successes in his first term and you can sense that he's determined to make a second term even better than the first.
Every Boston Mayor whom I've known had a personal flair, a unique political DNA if you will. Marty's flair seems to be a mix of the humble with the stride of the confident. As modesty suits all professions, it particularly suits elected officials. One wishes that more of them would inhale its calming wafts. Mayor Walsh seems truly humbled by the honor and the responsibility which now rests on his shoulders. May his modesty endure.
At the same time, he shows the confidence of a leader---someone who works hard, who listens closely, and who learns quickly, someone who makes decisions, someone who leads. May it long continue.
Donald Trump commands a stage. He is a larger-than-life New Yorker and New Yorkers do not do bland. It was centuries ago that John Adams noted a unique New York habit of non-stop over-the-top speaking, a mannerism that most non-New Yorkers find exhausting. President Trump does not deviate from the depiction. And the intrusive reality of a 24/7 constant electronic presence makes it even more pronounced.
His speech was panned by many critics as "dark". Particular issue was taken with his use of the word "carnage" to describe parts of America. But Trump doesn't do the Obama "poetry" or the Clinton "empathy". Nor does he do the "plain-folks" twang of W. Bush. Rather, he does New York City in-your-face, take no prisoners approach. He sees the bleakness and despair of too many American cities and he calls it carnage. He sees the bleakness and despair of small towns with shuttered factories and empty lives and he calls it carnage.
My own view is that he should be judged on his actions and his results regarding these shattered pieces of America, rather than on his words. The poetry, the empathy, and the folksy twang of his predecessors did not improve those broken schools, nor did they open those padlocked factories. To be illiterate or unemployed in today's America is to be human carnage. The "I feel your pain" refrain pays no bills. As President, Mr. Trump now has a chance to create real hope and true change. You may have your doubts about him, but he's earned the chance to try.
Governor Charlie Baker is no Donald Trump. Yes, he too commands a stage. But he also commands an issue, many issues in fact. He speaks with kindness, patience, humor, and an ever-present curiosity. There's no New York City in his style.
He wants to make Massachusetts a better place---better for work, better for school, better for opportunity, and better for families. He does not kick cans down the road in order to avoid difficult decisions. He sees problems and he tries to solve them.
After all the sturm and drang of last week's D.C. Inaugural, the Governor seemed determined to avoid any accusatory rhetoric. Instead, he thanked the Legislature for their goodwill and for their willingness to elevate progress over politics. It was a wise move, made wiser by the fact that the Legislature has indeed elevated progress over politics. True to form, the Governor is as eager to listen as he is to speak. Ask yourself when was the last time you saw someone in politics so self-effacing? He's happy to lead but only after he listens and only after he thinks. Pretty impressive stuff.
Three speeches........and now the hard work begins anew.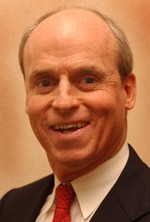 Tom Finneran is the former Speaker of the Massachusetts House of Representatives, served as the head the Massachusetts Biotechnology Council, and was a longstanding radio voice in Boston radio.
---
Related Slideshow: Trump Inauguration
Related Articles
Enjoy this post? Share it with others.