Finneran: Trump As Symptom
Friday, October 14, 2016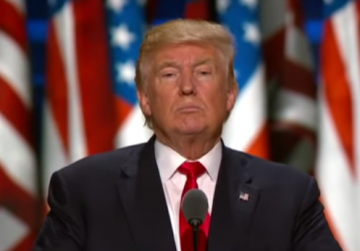 America is embarrassed, as it should be.
We are intellectually weak and morally confused. And Donald Trump, the intelligentsia's current punching bag, is not the cause. He is merely the latest symptom.
As such symptom he certainly fills the requirements. He is loud, obnoxious, vulgar, and crass. He speaks without thinking and with little apparent discipline. He may have gone to "good schools", or in his words "great schools" but he would not graduate from any serious high school which requires coherence in thought and speech. He is not Boston Latin School material.
Even his supporters acknowledge that he is erratic. And they know that he has hurt himself badly over the last few weeks.
I do not mean to pick on Mr. Trump. As stated he is merely the latest symptom of America's accelerating decline. There are many such symptoms. And the decline dates back decades. So let's not pick on Donald.
Consider Bill Clinton in the year 1992. At the time he was the Democratic candidate running against President George Bush the elder. Bush had successfully navigated the first Gulf War against Saddam Hussein's unprovoked invasion of Kuwait. Bush had assembled a very impressive coalition of allies, marshalling world opinion and action against the lunatic Hussein. But Bush was an "old man" at the time, essentially representing a third-term of Ronald Reagan and he was often flummoxed by the English language. Even worse for sophomoric America he wasn't "cool", appearing to be utterly amazed by a grocery scanner. Enter Clinton...........
Appearing on one of the late night talk shows, wearing sunglasses and playing the saxophone, Clinton made an obvious and politically calculated play for America's least intelligent and least informed voters--young adults. These are the voters whose words and minds are governed by impulse and hormones, voters who would never understand the degradation of the office of the presidency. Late night talk shows are for comics and pop entertainers not for Presidents of the United States. But the degradation had only just begun........................
These shows are scripted to the max and no President or candidate goes on the set in unscripted impromptu fashion. Every word is planned and rehearsed. Thus to the timeless question "boxers or briefs?", referring to the candidate's preference for underwear, candidate Clinton responded. I'm sure that Clinton's political gurus, those clever men who believe in non-stop manipulation, thought that this was the political coup of the century, showing their cunning candidate as hip while never giving a moment of consideration to the dignity of the office and the dignity of the Republic.
The fact that such an intrusive and inappropriate question was asked and answered back then and that it all seems so innocent to us today speaks to America's steep and rapid decline into the sewer of contemporary culture.
We now live in a moral cesspool.
As an example take a peek at the NFL, so quick to wrap themselves in the flag and to flaunt their "patriotism". The nation's most watched television show---the so-called super bowl---is equivalent to a strip club. There are more sexual gyrations than there are points scored. The horridly vulgar and money-grubbing Beyonce prances across the stage and into the White House while pre-teens twerk away their innocence. The team owners stuff their pockets with soiled cash and adopt the pose of philanthropist sportsmen. What a degraded joke. They should be ashamed but they have no shame.
I take solace and hope when I read that the NFL's television ratings are in decline. Perhaps Americans are taking notice. Autumn in the North American latitudes is a beautiful season. The heat and humidity of summer are gone and the outdoors beckon. Perhaps some Americans are waking up to the fact that twenty minutes of actual football and three hours of erectile dysfunction and beer commercials is not a balanced bargain. Personal time, family time, yard work, or just a long quiet walk seem to me to be far superior choices to the weekly enrichment of spoiled athletes and crybaby owners.
I close with this sad depressing thought of the so-called leaders of our society---would any responsible father want to leave their teenage daughters alone with Mr. Trump or Mr. Clinton? I think not. In fact, I think that the Secret Service details those public men enjoy would be sorely tested by any conscientious father, making sure that their daughters never got within arm's reach of these pigs in pants.
Yes, America is embarrassed, as it should be. And our would-be masters tell us that it's the Little Sisters of the Poor who bear watching. Needless to say I dissent.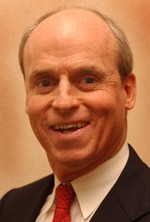 Tom Finneran is the former Speaker of the Massachusetts House of Representatives, served as the head the Massachusetts Biotechnology Council, and was a longstanding radio voice in Boston radio.
---
Related Slideshow: Trump in Worcester
Related Articles
Enjoy this post? Share it with others.