Finneran: Notwithstanding Trump V. Clinton
Friday, October 21, 2016
The polls reveal great unhappiness with our choices for President. Most Americans seem to yearn for something more---something greater, something inspiring, something hopeful. The two principal candidates seem to fall far short of such yearning.
Some part of that national disappointment rests with President Obama whose "hope and change" candidacy and incumbency has fallen quite short of absurd expectations. For that part of the hope and change nonsense that Obama promoted he bears full responsibility for the accompanying civic disillusionment. For that part of the hope and change nonsense promoted by an unquestioning even adoring media they stand revealed as nakedly cynical, partisan, ignorant, and arrogant.
A still hopeful American might ask for a fourth presidential "debate" where Mr. Trump and Mrs. Clinton concede their many limitations and mistakes as well as their broken-vessel characters. These two individuals are not sterling examples of piety, so any semblance of modesty and humility would do them and everyone else a world of good.
That same hopeful American might then ask each candidate to commit themselves to improving three big things if given the privilege of the Presidency. Try to imagine a conversation where each candidate chooses his or her "big three" and what they propose for the nation's consideration.
I'll name my big three, not that I expect either candidate to candidly explore them. Given that the options for improving the status quo are a) limited and b) lousy, the candidates would probably shy away. As has been pointed out many times, campaigning is a lot easier than governing. And governing takes you into the realm of lousy choices.
My big three for Trump/Clinton consideration are 1) the nation's aging infrastructure, 2) the nation's accumulating debt and deficits, and 3) the nation's foreign affairs. Note by the way that each issue would by necessity implicate Congress in coming up with proposals to improve such matters. That is a very good thing in light of recent presidential tendencies to assert monarchical authority. No sane person should want to vest such royal prerogative in anyone named Bush, Trump, Clinton, or Obama. May Congress quickly recover its soul and its purpose, Amen.
Note too that each issue involves the nation's future safety and well-being. Hallucinogenic hypotheticals about abortion, birth control, bathrooms, new pronouns, and which lives matter are set aside. For the record, all lives matter and the nation can no longer afford the sideshows of distractive issues. Might we focus for a change on issues which are of daily importance to to hundreds of millions of Americans?
There should be little doubt that our highways, airports, seaports, and subways need attention and investment. Where will the dollars come from? Budget cuts in other areas freeing up such dollars? A dedicated tax? User fees?
There should be absolutely no doubt that our debts and deficits are unhealthy indicators of a government that has lost self-control. We're screwing our kids and grandkids in ways that were unimaginable to our parents and we seem to think that such fiscal incontinence is a birthright. Republicans and Democrats share ample blame for this disgrace.
There should be no doubt that current foreign affairs discourage our confidence. An aggressive Russia, an assertive Communist China, a lunatic North Korea, an appalling mess in Syria, bedlam in Libya and Iraq, an Iran deal which though hidden still stinks, refugee crises, and terrorism abroad and in our communities do not impart high marks on President Obama's stewardship. Allies are worried and adversaries are emboldened. What might our presidential candidates do to correct this course of affairs?
True leadership does not often emerge in mundane matters. Such leadership often needs crisis as a stimulant. As President, Mr. Trump or Mrs. Clinton might very well surprise us, rising to the occasion of these first turbulent decades of the twenty-first century. Hopeful Americans might pray for their success, not as Democrats or Republicans, but as Americans.
There is certainly no lack of crisis.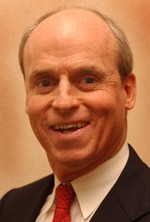 Tom Finneran is the former Speaker of the Massachusetts House of Representatives, served as the head the Massachusetts Biotechnology Council, and was a longstanding radio voice in Boston radio.
---
Related Slideshow: Trump in Worcester
Related Articles
Enjoy this post? Share it with others.