Finneran: American Follies
Friday, March 17, 2017
Here's a quick sampling of American follies observed over the past few days:
THE BACHELOR:
This abomination has to hold the all-time prize for an idiotic show with an idiotic cast. I might have thought that in a nation of more than three hundred million sentient human beings that there would only be one or two morons willing to abase themselves and embarrass their families in such flagrant fashion. It now appears that there are many more young Americans with absolutely no standards of taste, decency, or self-respect than I thought. If this means that I am out of touch with "the culture", that makes me very happy.
THE STORM OF THE CENTURY:
Admittedly, weather forecasting is not an exact science. But can we do away with the breathless hype of a snowstorm in March in New England? It snows frequently in New England, anytime from October into May. That's eight months of potential snowstorms, all of them now treated by television and cable stations as an apocalyptic event. Apparently, we simply must have bread, milk, eggs, cheese, cash, water, gas, batteries and of course ammunition for when the hordes of invaders or hungry bears start marauding our neighborhoods. One would have thought that Rommel's Panzer Corps had landed on the coast and was heading our way. Once again, television takes the low road.
CIALIS ADS:
Who writes these ads? Have you ever seen anything quite so silly? A middle age couple is depicted ever so discreetly as re-enacting their most libidinous years. Sans clothes, they are touching fingers and staring into each other's eyes. They are however seated in separate bathtubs. I break out laughing every time I see this ad as I think that one of them has to get up and get out if he or she really wants to get down. That means goosebumps as he exits the warm water. That also means trying to make room in the already cramped tub of his partner. Oops be careful---those tubs can be so slippery. The most likely outcome of these special middle-age moments is not sexual nirvana. Rather, the outcome likely involves a bad back, various sprains, and terminal embarrassment as Romeo slips and falls in the dirt. Hopefully the neighbors catch all the details on film and then distribute it via Facebook. Such are the glories of Cialis.
THE NFL:
The Globe reports that the city of Las Vegas has promised to put up $ 750 million dollars in public funds---i.e.-- taxpayers money---in order to build a stadium for the billionaires who own the team. The promised stadium is meant to entice said team to move from its present location in Oakland. The Globe has also reported that the billionaire owners of the San Diego Chargers have chided the citizens of San Diego for failing to tax themselves to the owners' personal satisfaction. It appears that those extremely selfish citizens prefer to spend their tax dollars on themselves. How self-centered they are---how dare they prefer the education of their children, the safety of their streets, and the quality of their lives to the further enrichment of the team owners? Do they not appreciate the qualities of these noble sportsmen whose every waking hour is dedicated to marking up the prices of tickets, crappy beer, and stale popcorn?
There are of course a few very simple and legitimate responses to these taxpayer shakedowns—
Response # 1: "Drop dead".
Response # 2: "We'll help with infrastructure—i.e.—connecting roads, water and utility upgrades, etc. Other than that, you're on your own---just like every other business in America".
Response # 3: "How much equity in the team and its prodigious revenue streams do the taxpayers get in return for their "investment". And of course, we'll require an annual audit of your books in order to protect the taxpayers' interests".
It's usually response # 3 that ends the charade of these so-called public-private partnerships.
Welcome to twenty-first century America---the land of milk, honey, and oh so many follies..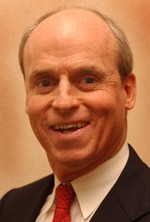 Tom Finneran is the former Speaker of the Massachusetts House of Representatives, served as the head the Massachusetts Biotechnology Council, and was a longstanding radio voice in Boston radio.
Related Articles
Enjoy this post? Share it with others.