Finneran: At a Loss for Words
Friday, October 06, 2017
Recent events have taken a toll.
I am at a loss for any meaningful words.
Hurricane Harvey absolutely obliterated Houston. Houston's frightful public plight was soon erased by Hurricane Irma. Its now more private plight will last the rest of my lifetime.
The media's saturation coverage of Irma as it ravaged Caribbean islands and the Florida Keys pushed Houston out of the picture. There too, the damage will last the rest of my lifetime. Then came Marie and poor Puerto Rico. A saturation bombing campaign could not match Marie's punch. It was a one-two-three meteorological combination that hit like Marciano, Frazier, and Ali. Entire cities were put flat on their backs. Smaller villages were utterly erased. Some islands have been completely wiped out.
By the way, Mexico, our neighbor to the South, was rocked by two powerful and deadly earthquakes, creating another humanitarian disaster on our doorstep.
All this was then followed by the murder rampage in Las Vegas, the most horrifying and inexplicable event of the year. With Harvey, Irma, and Marie, Mother Nature was in charge. In Las Vegas, human agency was front and center, evil human agency. Man's notorious inhumanity to his fellow man was on full display.
Las Vegas renders me silent. No words of mine can heal the hearts which are broken. No words of mine can bring consolation to those who grieve. My prayers will be silent. And I pray that my God will hear the tears of his people. I pray that my God will soothe the torments of their minds. I will pray.
Regarding Houston, Florida, Puerto Rico, Mexico, and multiple Caribbean islands, America's capacity for kindness will be tested.
This is not a trial of President Trump. Nor is it a trial of Congress or the political parties. Food and water, blood and medicine, doctors and engineers know no political boundaries. Fellow human beings are in deadly distress and America is called upon. We should step up.
We have ships. Send them. We have planes. Send them. We have helicopters. Send them. It's a curious thing that these deadly instruments of war will deliver life and hope to so many in despair.
If ever there was a call for a robust two-ocean Navy, Mother Nature provided it. If ever there was a call for more planes and personnel, it stares us in the face. If ever there was a call for massive lift and logistical capability, those storms rang the bell. America's standing in the world need not depend solely upon military power and prowess. America's natural kindness and its prodigious capacities can create alliances and friendships that surpass mere treaties. Someone should ask elderly Berliners what the United States Air Force did during the Berlin airlift. Those American planes brought not bombs but food, not rockets but coal, not coffins but blankets, not indifference but compassion, not despair but hope. It was a shining American moment, made even more special by the baleful hatred and cruelty of the Soviet oppressors.
So send generators. Send field hospitals. Send contractors and construction equipment. Fix the ports, fix the runways, heal the wounds which Nature has left behind.
This is America's moment to do what she does best. Shine forth.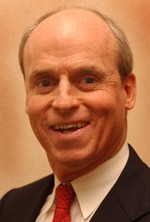 Tom Finneran is the former Speaker of the Massachusetts House of Representatives, served as the head the Massachusetts Biotechnology Council, and was a longstanding radio voice in Boston radio.
Related Articles
Enjoy this post? Share it with others.