Finneran: A Few of my Favorite Things…
Friday, August 11, 2017
Yes. The Sound of Music is one of my favorite movies. And Julie Andrews singing "These Are a Few of My Favorite Things" is the third best song in the movie. First place of course goes to "Climb Every Mountain". Second place goes to "Edelweiss".
Other favorite movies are Casablanca, The Godfather I and II, Braveheart, Apollo 13, Ferris Bueller's Day Off, Saving Private Ryan, Bridge on the River Kwai, The Maltese Falcon.............
It's August. The clock and the calendar are moving relentlessly toward Labor Day and a new school year. We enter the final weeks of summer with the lingering hope of a strong finish---good books, good movies, good food, and good days with friends and family.
Thus today's column is offered as a no-cost public service, filled with the suggestions of an old man........
Other good movies include Whiplash, Doubt, Slumdog Millionaire, The King's Speech, Selma, Captain Phillips, Lincoln, and The Imitation Game. All are worthy of the rental, all are worthy of your time. Don't forget the wine...........
A healthy habit forged ages ago was the summer reading list we all got at school. The habit itself usually takes true hold as we grow wiser, ever more curious, trying to make up for lost time. Those rebellious years when we only pretended to read the four or five assigned books are in the rearview mirror, consigned to that period in our life known as "the stupid years". For boys, those years usually range from age 12 to about age 40.
My book list is steeped in political incorrectness for it begins with a few dead white European men, namely Shakespeare, Dickens, and Churchill. Macaulay too. Anything by Shakespeare and Churchill is rewarding. Revel in the language. They are brilliant. Dickens' "A Tale of Two Cities" is always worthwhile, even if it's your fifth re-read. And Macaulay greatly influenced Churchill. Enough said.
Other good books are "Truman" and "The Great Bridge", by David McCullough. "The Candy Bombers" by Andrei Cherny is an amazing and important piece of history. "The Autobiography of Malcolm X" merits a re-read as does "Moneyball". Lauren Hillenbrand's "Unbroken" should make your list. You can make it a very strong finish by reading (or re-reading) Frederick Douglass' "Narrative of the Life of Frederick Douglass". Now there was a man. Local author Steve Puleo has a few gems to his credit. Two with local flavor are "Dark Tide" (about the great molasses flood) and "A City So Grand", my all-time favorite Boston book. It is a treat. As with the movies, don't forget the wine...........
I have my issues with the Boston Globe but the sports section is not the problem over there. Rather, it is the jewel. Read Nick Cafardo on baseball. Always good. Read Bob Ryan on basketball. Always good. Read Ben Volin and Chris Gasper on football. Always good. And read Dan Shaughnessy on anything in the world of sports. Dan has found a way to become the bane of owners, players, and rabid see-no-evil fans, all while writing witty and well-informed columns. He's not a cheerleader waving pompoms. He's thoughtful and opinionated. It's a good combination.
By the way, I miss Jackie MacMullan. Perhaps I'll get my MacMullan fix by reading her book on Bird and Magic. I will not forget the wine....................
We move to the table as we consider the day's feast. We are blessed with bounty. Wellfleet oysters, Cape mussels, dayboat scallops, fresh striper. Truly a heavenly banquet. Homegrown tomatoes! Awesome. Fresh picked corn on the cob. Peanut butter and jelly sandwiches at the beach. The very best state dinners in Paris or Washington D.C. cannot match our fresh fare. How about peach cobbler? It can only be improved by making a combination cobbler---a blueberry and peach cobbler, served warm with vanilla ice cream. In fact, I'm off to the kitchen right now. Cobbler tonight.
Remember that time waits for no one. August is ticking away. And don't forget the wine...........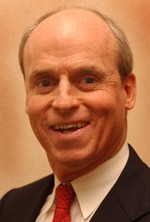 Tom Finneran is the former Speaker of the Massachusetts House of Representatives, served as the head the Massachusetts Biotechnology Council, and was a longstanding radio voice in Boston radio.
---
Related Slideshow: 25 Things You Must do in New England Before the Summer Ends - 2017
Related Articles
Enjoy this post? Share it with others.