Markey & Baker: Eloquence on Alzheimers
Friday, June 16, 2017
Alzheimer's.
The word strikes dread into the hearts and minds of too many families.
It's a terrible diagnosis, a frightful, exhausting, and terribly depressing disease.
I was in the audience at another important expansion of a life sciences company—Genentech—here in Massachusetts. Governor Baker and Senator Markey were in attendance as special guests and speakers.
The company CEO mentioned that seven million Americans currently suffer from Alzheimer's and that that number is expected to steadily rise in the years ahead.
I know from personal family experience that there is a hideous multiplier effect on every single diagnosis. I peg the multiplier at about ten to one. The affected individual likely has a spouse, sons, daughters, brothers, sisters, grandchildren, and perhaps some very close and devoted friends. If my multiplier model is even close to the mark, that means that about seventy million Americans struggle mightily to navigate the confusion, the heartbreak, and the exhaustion which are companions of the disease. Those were my private thoughts as Governor Baker and Senator Markey rose to speak.
The Governor went first, demonstrating as usual a firm command of medical research here in Massachusetts and its profound effects on our economy and on the quality of our lives. Our research hospitals, medical schools, colleges and universities, venture capitalists, and life science companies combine to spawn an economic juggernaut of incredible implication for the advance of human health. As Florence was to Renaissance art, so Massachusetts is to the hopes and health of mankind. Governor Baker gets it. He knows that hope resides here.
As he wound down his remarks the Governor veered into the personal side of his life, offering a glimpse of the wounding experience of Alzheimer's on multiple family members. He dwelled upon his mother's suffering, describing her descent into darkness, a bright vivacious woman who became a shell of herself. His remarks were poignant and powerful. His eyes were not the only ones brimming.
Senator Markey followed the Governor. It was not an easy task. And he hit it out of the park.
He too spoke of his mother, her life and her achievements, the class valedictorian hemmed in by the limitations imposed by the culture and customs of a bygone era. He spoke about his father, the neighborhood milkman, driving a Hood truck and supporting a rambunctious brood of Irish sons. With a hilarious aside about the greatest hockey player of all time---Bobby Orr---he then transitioned to his work in Congress and his founding of the Alzheimer's Caucus. It was an emotional, intelligent, and inspiring speech, a speech which left the audience filled with hope and wanting more. Kudos to the Senator for the speech, as well as for the unrelenting focus of the Caucus on funding critical research.
These were two superb speeches, backed by knowledge and experience, and packed with the emotion of having held the hands of loved ones as they slowly succumbed to this terrible wasting disease.
I left there feeling buoyant, filled with hope that our gifted scientists can solve the hideous puzzle and filled with pride that such saving work occurs right here in Massachusetts.
Our whale oil once lit the world. Our codfish once fed the world. Our textiles once clothed the world. Our technology now improves the world. And our medical research will continue to rid the world of many terrible age-old scourges. Hail Massachusetts.
Markey and Baker help make it happen. May they long continue.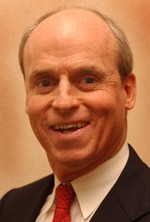 Tom Finneran is the former Speaker of the Massachusetts House of Representatives, served as the head the Massachusetts Biotechnology Council, and was a longstanding radio voice in Boston radio.
Related Articles
Enjoy this post? Share it with others.