Finneran: Grandparents' Grief
Friday, October 20, 2017
It's supposed to be a happy time in the life of older married couples. It's not supposed to be a nightmare.
They've worked hard to raise and support their children and they've reached a stage where they might be able to take their foot off the gas, to slow down both physically and professionally, perhaps even to travel a little bit.
Their kids are now married and presumably the cycle of life adjusts the responsibilities.
Somewhere north of ninety-nine percent of grandparents love to pitch in and help out their sons and daughters. Spoiling the grandkids with sweets and treats is an age-old grandparenting function. So is having a sleep-over or taking them to their practices and their various competitions. Baby-sitting, in order to give the young couple a few hours of peace and quiet and perhaps to help the little ones with homework, is particularly treasured time.
But something very ominous looms over too many homes today. A headline in a local newspaper gives a glimpse of a grim new reality. It reads "Grandparents Raising Grandchildren" and it references some local classes for folks who are thrust back into the role of twenty-four hour custodial care-giver.
The causes are multiple. It might be the scourge of addiction. It might be domestic violence. It might be chronic unemployment or imprisonment. Whatever the cause, the natural parents are unable or even unwilling to care for their children and the grandparents, perhaps frail and sickly themselves, are called upon to resume the round-the-clock duties of days long gone by.
Hearts once joyful at the growth of their children and the arrival of grandchildren are now filled with fear. Fear that their son or daughter will not escape the grip of addiction. Fear that their child will be lost to the street. Fear that the next conversation will be a silent one, while kneeling at the side of a coffin.
There is another level of fear in their homes---a constant fear of inadequacy. It's a fear of a physical inability to take over the parenting of one or two or more children when their own limiting ailments surface so frequently.
It is not a question of love running dry. Indeed, the love has probably risen to an even higher dimension, based on a determination to spare these frightened grandchildren from the pain and despair of their parents. Rather, the limitation is exhaustion. Physical, mental, and even spiritual exhaustion.
The children are confused, and in their confusion they ask many questions, questions to which there are no answers........is Mom OK? Will Dad be home tonight? Does Mom still love me? Will Mom or Dad be at my game?
No community is spared this grief, not poor urban, not wealthy suburban, not East Coast, not West Coast. Farm communities, vacation communities, huge cities, and remote hamlets, all suffer from the scourges of drugs, violence, and despair. It's a massive social problem and its effects will touch multiple generations.
I give credit to Governor Baker, Mayor Walsh, Speaker DeLeo and Senate President Rosenberg. They and countless other public officials have not looked away from the problem. In fact, they have taken active steps to put an emphasis on education, prevention, treatment, and support services. They have all attended too many wakes, too many funerals. They have seen too many anguished families and friends. They have held the trembling hands of grieving grandparents whose dreams are dashed and whose fright is real.
Classes for grandparents raising grandchildren..........that is not the type of life-long learning that so many eagerly envisioned.
Pray for them.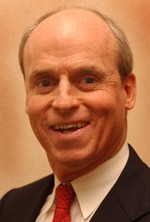 Tom Finneran is the former Speaker of the Massachusetts House of Representatives, served as the head the Massachusetts Biotechnology Council, and was a longstanding radio voice in Boston radio.
Related Articles
Enjoy this post? Share it with others.