Finneran: Never Ever
Friday, December 08, 2017
I was always surprised.
The stupidity amazed me. A kinder word might be gullibility but the importance of the task insists on using stronger words. Therefore I choose to describe it as utterly amazing stupidity.
How could anyone fall for it?
The "it" in question is voting and Hollywood.
You know Hollywood, where adults play at make-believe. Hollywood, the home of fake people with pompous opinions. Hollywood, where aspiring politicians go to raise money and engage pseudo philosophers in their mockery of ordinary Americans.
Hollywood. Talk about a dismal and putrid swamp which could use some draining. Good God, blow it all up.
The notion that any of Hollywood's so-called celebrities have even the faintest idea of the lives of ordinary Americans is absurd. Similarly absurd is the fact that the political endorsements of these plastic creatures actually impress some people.
Not me. Never ever. Not for one second do I care or even think about George Clooney's preferred candidates. Or Matt Lauer's. Or Harvey Weinstein's.
Their condescension is palpable. And their hyper-hypocrisy is laughably obvious. These pigs paraded around as defenders of the gentle sex, highly alarmed about the GOP's alleged "war on women". Spare me their lectures. I ain't listening.
As far as any war on women these three pigs, and many more, were the equivalent of one-man Panzer divisions. What phonies.
Remember what I said re listening to anything they say---never ever.
Consider their net worth to get an idea of just how remote they are from any American family you've ever known:
Matt Lauer: annual salary estimated at $ 20-25 Million dollars a year; Net worth is $ 60 million;
Harvey Weinstein: Net worth estimated at $ 240-300 Million dollars;
Charlie Rose: Net worth is estimated at a paltry $ 23 Million dollars, demonstrating the amazing frugality of PBS;
Al Franken: an unfunny "comic" who ends up as a United States Senator which, when given any serious thought, might be the biggest (and worst) joke of all time. Pity the Senate. Pity America.
Consider too the objects of their scorn—humble folks who never went to an Ivy League school, who get married and stay married to the same person, who work two or more jobs to support their families, who attend church services, and who maybe even run a local Girl Scout or Boy Scout troop or who coach kids in various sports. Always a little bit slow to pick up on the latest cultural fad and absurdity, such folks are then viciously mocked by Hollywood as bigots and haters.
Protected by high walls and armed guards, secure in their finances and limousines, our Hollywood celebrities are of course completely insulated from the dreadful effects of their silly politics. I'm often reminded of dippy John Lennon singing his "Imagine No Possessions" song while pocketing many millions of dollars into trust funds and tax shelters. Similar hypocrisies, although much more deadly than dreamy John Lennon, can be found in Hollywood's embrace of Arafat, of Castro, of Mao, and of Stalin.
Of course it's easy to affect a thoughtful pose of such "people's revolutionaries" from behind those guarded gated communities of Hollywood. Thuggish murderers can apparently look great from a distance.
I don't buy it and neither should you. Streep might act and Springsteen might sing. But don't fall for their lectures.
Not now. Not ever. Never ever.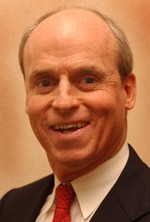 Tom Finneran is the former Speaker of the Massachusetts House of Representatives, served as the head the Massachusetts Biotechnology Council, and was a longstanding radio voice in Boston radio.
---
Related Slideshow: Growing List of Alleged Sexual Harassers
Related Articles
Enjoy this post? Share it with others.