Finneran: Which Lives Matter?
Friday, November 10, 2017
There's no need for mystery here........no need for any suspense.
Repeat after me---all lives matter.
Black lives, brown lives, white lives, they all matter.
Those lives lost in Las Vegas matter. Those lives taken in Texas matter. Those lives taken by rogue cops matter as do the lives of police officers who are targeted and killed simply because they are police officers. Lest we forget, those lives lost in the South Carolina church shooting last year matter as well. Those three simple words cover the moral scope of the question of which lives matter. All lives matter.
It is a mystery to me how anyone can narrow the field of which lives matter. Were the black lives lost in that South Carolina church any less important than the white lives lost this week in that Texas church?
Our hearts might break over the slaughter of children in those settings but that's the instinctive reaction of responsible adults. Responsible adults nurture and protect children, always trying to give them the opportunity for a full life. Responsible adults know that there can be no less heartbreak over the slaughter of black children than over the slaughter of white children. For those of us of a religious bent, they are all God's children. For those of no particular religious belief, there is the natural instinct to protect the weak, the young, and the innocents in our midst.
It may have been one of the more depressing moments in last year's presidential primaries when certain candidates allowed themselves to be bullied down from the encompassing belief that all lives matter. Black Lives Matter activists are entitled to their hierarchical view of which lives matter most but no serious presidential candidate should ever retreat from the moral code of valuing all human life equally. To do so is an indication of gross political cowardice as well as an indication of stunning moral confusion.
In this regard, the adults of society might take a lesson or two from infants. Infant care is instructive. Watch a baby's eyes, so sweet and so curious about all things. They are too young to have been tainted by adult bias. They reach for each other, touching, laughing, cooing totally oblivious to the social significance of race. They react to humanity, not color. They embody Reverend King's desperate wish about the content of character rather than the color of skin.
Reverend King was familiar with Matthew's gospels and those gospels give guidance---"let the little children come to me", and "truly, unless you become like children you will not enter the Kingdom of Heaven".
I don't pretend to be a scriptural scholar. I'm far too simple to have mastered such complex material. But I'm very comfortable with principles of right and wrong, of the Golden Rule, of our shared humanity, and of human kindness. I'm appalled by the violence carried in some hearts.
Repeat after me---all lives matter. All colors, all shades, and all lives. They do indeed matter.
Just ask the children....................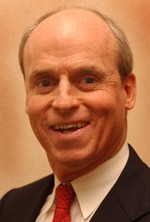 Tom Finneran is the former Speaker of the Massachusetts House of Representatives, served as the head the Massachusetts Biotechnology Council, and was a longstanding radio voice in Boston radio.
Related Articles
Enjoy this post? Share it with others.